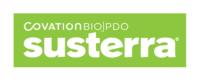 Susterra® propanediol
When performance matters, choose Susterra® propanediol—the pure, 100% plant-based, petroleum-free diol. Susterra® propanediol is the building block that delivers high performance in a variety of applications, from polyurethanes and unsaturated polyester resins to heat-transfer fluids.
For polyurethanes, Susterra® propanediol is an excellent polyol or chain extender that gives manufacturers flexibility when developing high-performing, plant-based solutions.
As the primary ingredient in heat-transfer fluids, Susterra® propanediol functions as a higher-performing, food-safe glycol for process heating and cooling. Susterra® propanediol has unique performance advantages: it can directly replace propylene glycol yet provides fluid manufacturers with improved performance at both high and low temperatures.
The benefits of Susterra® propanediol include:
Pure
Petroleum-free
Non-toxic and food safe
100% sustainably and renewably sourced
USDA 100% certified bio-based product
Plus, Susterra® propanediol is renewably sourced and generates up to 48% less greenhouse gas emissions cradle-to-gate compared to 1,4-butanediol (BDO), a common petro-chemical sourced alternative.
Susterra® propanediol can help companies fulfill their sustainability goals without compromising on quality across a variety of industrial applications. Discover how Susterra® propanediol can meet and even exceed the performance of 1,4-butanediol and 1,2-propylene glycol in a wide range of applications, including:
Polyurethanes
Unsaturated polyester resins
Heat-transfer fluids
Solar and geothermal systems
Low-temperature, food-safe fluids
Engine coolants
Deicing fluids

Susterra® propanediol is a road-ready ingredient in footwear, outdoor apparel, performance gear and more, combining flexibility, durability and sustainability.

Combining exceptional cohesion properties and recyclability, Susterra® propanediol brings sustainable performance to coil coatings, polyurethanes, inks and more.

A wide range of fluid applications—from heat-transfer fluids to engine coolants—can benefit from the favorable viscosity and thermal stability of Susterra® propanediol.
Where to buy
Find a distributor in your area.
Request a sample
Product formulators and designers are invited to request a sample for application testing.